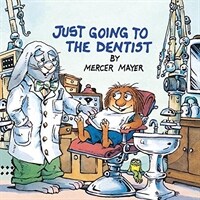 Just Going to the Dentist (Little Critter)
(Paperback,

Random House

)
ISBN-10 : 0307125831 ISBN-13 : 9780307125835 List Price : $3.99
Not in stock
All Used Books (0)

About This Book
Overview
Little Critter goes to the dentist for a checkup, and finds that going to the dentist isn't so bad.

When Little Critter visits the dentist, he has his teeth cleaned and examined, and a cavity filled

Mercer Mayer&;s Little Critter is having a checkup at the dentist in this classic, funny, and heartwarming book. Whether he&;s having an X-ray taken, getting a teeth cleaning, or finding a cavity, both parents and children alike will relate to this beloved story. A perfect way to help allay any fears of going to the dentist!


Product Details
ISBN-10: 0307125831
ISBN-13: 9780307125835
Binding: Paperback
Language: English
Pages: 24
Dimensions: 7.99 (w) x 7.01 (h) x 0.24 (d)