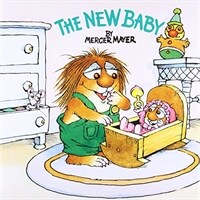 The New Baby (Little Critter)
(Paperback)
ISBN-10 : 0307119424 ISBN-13 : 9780307119421 List Price : $3.99
$1.52 (Very Good)
F47 (1st Shelf Top-to-bottom)
Overview
Once he learns how to play with her, a little monster is glad he has a new baby sister

The new baby takes some getting used to, but she's worth it.

Mercer Mayer&;s Little Critter has a brand-new baby sister in this classic, funny, and heartwarming book that makes for the perfect gift this Mother's Day!

Whether he&;s rocking her to sleep, helping change diapers, or pushing the stroller, both parents and children alike will relate to this beloved story. A perfect way to help a soon-to-be older sibling welcome a younger one!


Product Details
ISBN-10: 0307119424
ISBN-13: 9780307119421
Binding: Paperback
Language: English
Pages: 24
Dimensions: 7.99 (w) x 7.99 (h) x 0.24 (d)