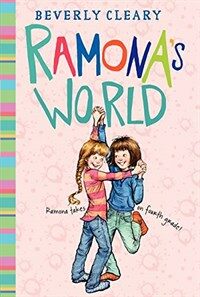 Ramona's World
(Paperback)
ISBN-10 : 0380732726 ISBN-13 : 9780380732722 List Price : $7.99
$3.04 (Very Good)
F32 (1st Shelf Top-to-bottom)
Overview
------------Amazon.com-------------
Ramona Quimby is back! Beverly Cleary's best-loved and most exuberant character has been winning friends since the 1950s when she made her first appearance as Beezus's pesky little sister. Now, in Cleary's first Ramona book in 15 years, our beloved spitfire is 9 years old, and she fully intends to make fourth grade the best year of her life. Even with her spelling struggles, a new baby sister, and a fall through her best friend's ceiling, her wish seems to be coming true. Old friends Yard Ape and Howie are still around--and with her new best friend Daisy, Ramona is on top of her world! The ever-popular Cleary has been awarded many honors, including the prestigious Newbery Medal for
Dear Mr. Henshaw
in 1984. Two books in the Ramona series,
Ramona and Her Father
and
Ramona Quimby, Age 8
, were named Newbery Honor Books. Cleary's masterful expression of children's emotions endears her to the hearts of her young readers, time after time. Who else could know just what it feels like to accidentally make a funny face during the school pictures, or the dread of being forced to play with the annoyingly perfect Susan? Happily, Cleary is still teamed up with illustrator Alan Tiegreen, whose simple line drawings capture the most complex of childhood predicaments. (Ages 8 to 12)
--Emilie Coulter
------------Book Description-------------
Ramona Quimby is sure fourth grade will be "the best year of her life, so far." She can show off her calluses from swinging on the rings in the park, sit across the aisle from the boy she calls Yard Ape, and enjoy her cheerful new teacher, Mrs. Meacham. Most exciting of all, Ramona has a new best friend, Daisy.
Fourth grade doesn't turn out quite the way Ramona has hoped. Mrs. Meacham wants her to improve her spelling. Ramona also must be a good role model for her baby sister, Roberta. And Mrs. Quimby wants her to spend more time with, the super-perfect Susan. Fourth-grade life isn't always easy, but it's full of adventure, and at the end of it all- a "zeroteenth" birthday to celebrate!
Product Details
ISBN-10: 0380732726
ISBN-13: 9780380732722
Binding: Paperback
Language: English
Pages: 192
Dimensions: 5.00 (w) x 7.52 (h) x 0.51 (d)