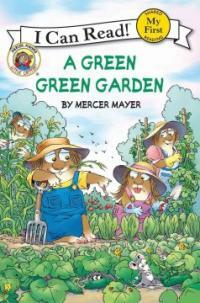 Little Critter: A Green, Green Garden
(Paperback)
ISBN-10 : 0060835613 ISBN-13 : 9780060835613 List Price : $4.99
$1.90 (Very Good) ~ $2.13 (Very Good)
F07 (1st Shelf Top-to-bottom)
F07 (3rd Shelf Top-to-bottom)
Overview
Join Mercer Mayer&;s classic and beloved character, Little Critter® as he goes green in this My First I Can Read book!
Little Critter learns that planting his own garden is a lot of fun and a lot of work. But the result&;a green, green garden&;is something he can cherish and enjoy.
Little Critter: A Green, Green Garden is a My First I Can Read book, which means it&;s perfect for shared reading with a child.
Little Critter and his family work on growing a garden, and after planting seeds, watering each seedling, and waiting for the plants to grow, they have a green garden with lots of vegetables.
Product Details
ISBN-10: 0060835613
ISBN-13: 9780060835613
Binding: Paperback
Language: English
Pages: 32
Dimensions: 6.10 (w) x 8.98 (h) x 0.16 (d)