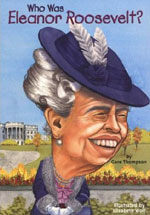 Who Was Eleanor Roosevelt?
(Paperback)
ISBN-10 : F432531025 ISBN-13 : List Price : $4.99
$1.80 (Good) ~ $2.13 (Very Good)
F08 (2nd Shelf Top-to-bottom)
F28 (7th Shelf Top-to-bottom)
F31 (7th Shelf Top-to-bottom)
Overview
For a long time, the main role of First Ladies was to act as hostesses of the White House...until Eleanor Roosevelt. Born in 1884, Eleanor was not satisfied to just be a glorified hostess for her husband, President Franklin Delano Roosevelt. Eleanor had a voice, and she used it to speak up against poverty and racism. She had experience and knowledge of many issues, and fought for laws to help the less fortunate. She had passion, energy, and a way of speaking that made people listen, and she used these gifts to campaign for her husband and get him elected presidentA?four times! A fascinating historical figure in her own right, Eleanor Roosevelt changed the role of First Lady forever.
Product Details
ISBN-10: F432531025
Binding: Paperback
Language: English
Pages: 106
Dimensions: 5.24 (w) x 7.24 (h) x 0.24 (d)