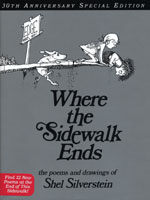 Where the Sidewalk Ends: Poems & Drawings
(Hardcover,

40, Anniversary

)
ISBN-10 : 0060572345 ISBN-13 : 9780060572341 List Price : $18.99
Not in stock
All Used Books (0)

About This Book
Overview
Shel Silverstein, the New York Times bestselling author of The Giving Tree, A Light in the Attic, Falling Up, and Every Thing On It, has created a poetry collection that is outrageously funny and deeply profound. Come in...for where the sidewalk ends, Shel Silverstein's world begins. This special edition contains 12 extra poems.
You'll meet a boy who turns into a TV set, and a girl who eats a whale. The Unicorn and the Bloath live there, and so does Sarah Cynthia Sylvia Stout who will not take the garbage out. It is a place where you wash your shadow and plant diamond gardens, a place where shoes fly, sisters are auctioned off, and crocodiles go to the dentist.
Shel Silverstein's masterful collection of poems and drawings stretches the bounds of imagination and will be cherished by readers of all ages. This is a collection that belongs on everyone's bookshelf. Makes a great gift for special occasions such as holidays, birthdays, and graduation.
And don't miss Runny Babbit Returns, the new book by Shel Silverstein!
A boy who turns into a TV set and a girl who eats a whale are only two of the characters in a collection of humorous poetry illustrated with the author's own drawings.
This masterful collection of poems and drawings is at once outrageously funny and profound, and this special edition, which marks 40 years in print, contains 12 extra poems that did not appear in the original collection.
Product Details
ISBN-10: 0060572345
ISBN-13: 9780060572341
Binding: Hardcover
Language: English
Pages: 192
Dimensions: 7.01 (w) x 9.25 (h) x 1.26 (d)