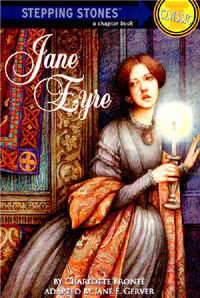 Jane Eyre
(Paperback)
ISBN-10 : 0679886184 ISBN-13 : 9780679886181 List Price : $3.99
$2.50 (Good)
F12 (2nd Shelf Top-to-bottom)
Overview
From Library Journal
Written in 1847, this novel remains a favorite, especially among younger readers and listeners who continue to be entranced by the young Jane and her mysterious Mr. Rochester. The story of an unhappy orphan and her life as a governess at Thornfield is filled with difficulty, including a shocking revelation on her wedding day. The happy ending finally arrives, though, and Jane and Rochester are united forever. Long criticized as being melodramatic and contrived, Jane Eyre has nonetheless become a romantic classic and is often the book that introduces students to serious literature. Bronte's suspense-filled plot adapts well to the audio format. This version, although abridged, omits nothing of importance. Juliet Stevenson, a Royal Shakespeare Company associate, reads with the drama the story demands and makes each character emerge with life and energy. Recommended for general audiences.
- Nancy R. Ives, SUNY at Geneseo
Copyright 1994 Reed Business Information, Inc. --This text refers to an out of print or unavailable edition of this title.

Product Details
ISBN-10: 0679886184
ISBN-13: 9780679886181
Binding: Paperback
Language: English
Pages: 99
Dimensions: 5.75 (w) x 7.52 (h) x 0.24 (d)