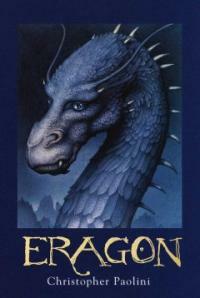 [Used] Eragon: Book I
ISBN-10 : U814360995 ISBN-13 : 9780375826689 List Price : $9.47
Not in stock
Used Condition : Good
Price : $18.95 → $6.41 ($12.54 Save)
All Used Books (0)

About This Book
Overview
When fifteen-year-old Eragon comes to learn that he is a gifted Dragon Rider, he realizes that his destiny is to fight the evil powers that will bring complete destruction to the Empire and so leaves his quiet life as a farm boy to succeed in his one true mission in life, in a deluxe edition which includes a foldout map, an expanded pronunciation guide, and an excerpt from the next book in the trilogy.

Don&;t miss the latest book from the author of Eragon, The Fork, the Witch, and the Worm: Tales from Alagaësia! 

Perfect for fans of Lord of the Rings, the New York Times bestselling Inheritance Cycle about the dragon rider Eragon has sold over 35 million copies and is an international fantasy sensation.


Fifteen-year-old Eragon believes that he is merely a poor farm boy&;until his destiny as a Dragon Rider is revealed. Gifted with only an ancient sword, a loyal dragon, and sage advice from an old storyteller, Eragon is soon swept into a dangerous tapestry of magic, glory, and power. Now his choices could save&;or destroy&;the Empire.

&;An authentic work of great talent.&;&;The New York Times Book Review

&;Christopher Paolini make[s] literary magic with his precocious debut.&;&;People

&;Unusual, powerful, fresh, and fluid.&;&;Booklist, Starred

&;An auspicious beginning to both career and series.&; &;Publishers Weekly

A New York Times Bestseller

A USA Today Bestseller

A Wall Street Journal Bestseller

A Book Sense Bestseller

In Alagaeesia, a fifteen-year-old boy of unknown lineage called Eragon finds a mysterious stone that weaves his life into an intricate tapestry of destiny, magic, and power, peopled with dragons, elves, and monsters.


Product Details
ISBN-10: 0375826688
ISBN-13: 9780375826689
Binding: Hardcover
Language: English
Pages: 528
Dimensions: 6.34 (w) x 9.61 (h) x 1.61 (d)