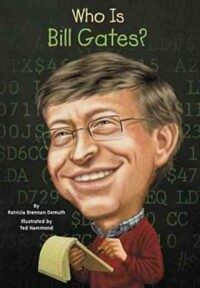 [Used] Who Is Bill Gates?
ISBN-10 : U314367227 ISBN-13 : 9780448463322 List Price : $2.99
Not in stock
Used Condition : Very Good
Price : $5.99 → $2.20 ($3.79 Save)
Overview
Bill Gates, born in Seattle, Washington, in 1955, is an American business magnate, investor, philanthropist, and author. In this Who Was...? biography, children will learn of Gates' childhood passion for computer technology, which led him to revolutionize personal computers. Through the success of his now-world-famous software company, Microsoft, Bill Gates became one of the wealthiest philanthropists in history.This fascinating story of a child technology genius is sure to captivate any audience!
Product Details
ISBN-10: 0448463326
ISBN-13: 9780448463322
Binding: Paperback
Language: English
Pages: 105
Dimensions: 7.40 (w) x 5.20 (h) x 0.31 (d)