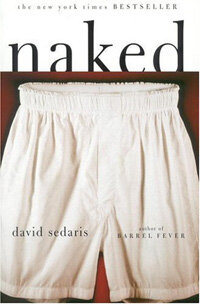 [Used] Naked
ISBN-10 : U014367223 ISBN-13 : 9780316777735 List Price : $8.49
Not in stock
Used Condition : Very Good
Price : $16.99 → $6.46 ($10.53 Save)
All Used Books (0)

About This Book
Overview
------------Amazon.com Reviews-------------
Hip radio comedy fans and theater folks who belong to the cult of Obie-winning playwright/performer David Sedaris must kill to get this book. These would be fans of the scaldingly snide Sedaris's hilariously described personal misadventures like The Santaland Diaries (a monologue about his work as an elf to a department store Santa) seen off-Broadway in 1997. In a series of similarly textured essays, Sedaris takes us along on his catastrophic detours through a nudist colony, a fruit-packing plant, his own childhood, and a dozen more of the world's little purgatories.

------------Book Description-------------
Naked is a riotous compilation of stories performed by David and Amy Sedaris. Publishers Weekly praised this program's "smashing use of the audio as a unique entertainment medium" and called the performances "highly likeable and spirited throughout." They also named it one of "the best of the best" tapes of the year, and deemed it worthy of "multiple listens."


Product Details
ISBN-10: 0316777730
ISBN-13: 9780316777735
Binding: Paperback
Language: English
Pages: 291
Dimensions: 5.51 (w) x 8.27 (h) x 0.75 (d)