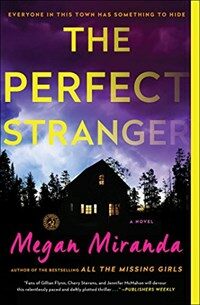 [Used] The Perfect Stranger
ISBN-10 : U924367865 ISBN-13 : 9781501108006 List Price : $8.00
Not in stock
Used Condition : Good
Price : $16.00 → $6.11 ($9.89 Save)
Overview
From the author of the New York Times bestseller All the Missing Girls?the gripping story of a journalist who sets out to find her missing friend, a friend who may never have existed at all. "Think: Luckiest Girl Alive, The Girl on the Train, Gone Girl" (TheSkimm).

Once a star reporter, Leah Stevens has lost her job at a Boston paper and damaged her professional reputation beyond repair. When she unexpectedly crosses paths with her old roommate, Emmy Grey, the two decide to relocate to a small town with the hope that they can leave their pasts behind.

But soon after their arrival, a woman who looks just like Leah is left for dead and Emmy goes inexplicably missing. The police are unable to find any trace of Emmy?no acquaintances, no digital presence, and no paper trail. As Leah searches for answers in the house they share, she begins to realize how very little she knows about her closest friend. Is it possible Emmy Grey never existed at all?

Leah works to track down Emmy and realizes everyone in this town has something to hide. Who can she trust?Kyle, the handsome young detective on the case; the concerned assistant principal; the teen students in her class, who seem to know more than Leah herself? Soon her credibility is at stake, and Leah must confront her old demons and find some proof of Emmy to save herself.

Gripping and atmospheric, The Perfect Stranger is an "an excellent second novel of psychological suspense…Highly recommended for fans of Alafair Burke, Gillian Flynn, and Lisa Lutz, and for all readers who like their female characters clever and resourceful, even when their best friends become their worst nightmares" (Booklist).
Product Details
ISBN-10: 150110800X
ISBN-13: 9781501108006
Binding: Paperback
Language: English
Pages: 352