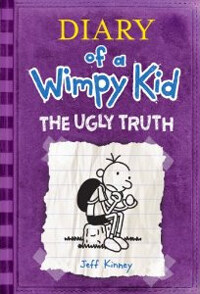 [Used] Diary of a Wimpy Kid #5 : The Ugly Truth
ISBN-10 : U494366554 ISBN-13 : 9780810984912 List Price : $6.97
Not in stock
Used Condition : Very Good
Price : $13.95 → $5.96 ($7.99 Save)
Overview
Greg Heffley has always been in a hurry to grow up. But is getting older really all it&;s cracked up to be?
 
Greg suddenly finds himself dealing with the pressures of boy-girl parties, increased responsibilities, and even the awkward changes that come with getting older&;all without his best friend, Rowley, at his side. Can Greg make it through on his own? Or will he have to face the &;ugly truth&;?
While trying to find a new best friend after feuding with Rowley, middle-school slacker Greg Heffley is warned by older family members that adolescence is a time to act more responsibly and to think seriously about his future.
Product Details
ISBN-10: 0810984911
ISBN-13: 9780810984912
Binding: Hardcover
Language: English
Pages: 217
Dimensions: 7.99 (w) x 5.51 (h) x 0.75 (d)