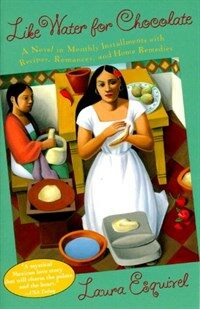 [Used] Like Water for Chocolate: A Novel in Monthly Installments with Recipes, Romances, and Home Remedies
ISBN-10 : U974365917 ISBN-13 : 9780385420174 List Price : $7.97
Not in stock
Used Condition : Good
Price : $15.95 → $6.09 ($9.86 Save)
All Used Books (0)

About This Book
Overview
A combination fairy tale, melodrama, romance, Mexican cookbook, and home remedy handbook, the long-awaited trade paperback edition of the hugely popular best-seller includes the artwork from the hardcover version. Reprint.

The bestselling phenomenon and inspiration for the award-winning film.

Earthy, magical, and utterly charming, this tale of family life in turn-of-the-century Mexico blends poignant romance and bittersweet wit.

This classic love story takes place on the De la Garza ranch, as the tyrannical owner, Mama Elena, chops onions at the kitchen table in her final days of pregnancy. While still in her mother's womb, her daughter to be weeps so violently she causes an early labor, and little Tita slips out amid the spices and fixings for noodle soup. This early encounter with food soon becomes a way of life, and Tita grows up to be a master chef, using cooking to express herself and sharing recipes with readers along the way.

Despite the fact that she has fallen in love with a young man, Tita, the youngest of three daughters born to a tyrannical rancher, must obey tradition and remain single and at home to care for her mother.


Product Details
ISBN-10: 038542017X
ISBN-13: 9780385420174
Binding: Paperback
Language: English
Pages: 245
Dimensions: 5.24 (w) x 7.99 (h) x 0.51 (d)