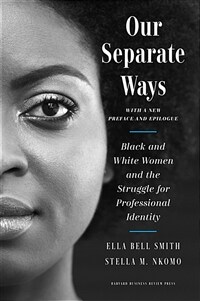 Our Separate Ways, with a New Preface and Epilogue: Black and White Women and the Struggle for Professional Identity
(Hardcover)
ISBN-10 : 1647821371 ISBN-13 : 9781647821371 List Price : $32.00
$18.24 (Very Good)
A03 (5th Shelf Top-to-bottom)
Overview
Gender equality is at a crossroads. Let your diverse talent shine.
Although successful professional women come from widely diverse backgrounds, educational experiences, and community values, they share a common assumption upon entering the workforce: "I have a chance." Along the way, however, they discover that people question their authority, challenge their intelligence, and discount their ideas. And while gender is a common denominator among these women, race and class are often wedges between them.
In Our Separate Ways, Ella Bell Smith and Stella Nkomo take an unflinching look at the surprising differences between Black and white women's trials and triumphs on their way to the top. Based on groundbreaking research, the book compares and contrasts the experiences of 120 first-generation Black and white female managers in the American business arena. Engaging stories bring to life the women's powerful and often difficult journeys from childhood to professional success, highlighting the roles that gender, race, and class played in their development.
Now with an updated preface and epilogue, this book provides candid discussions of the continuing challenge of achieving race and gender equality in the midst of deep political and ideological divides. You'll discover how white women have—perhaps unwittingly—aligned themselves more often with white men than with Black women and how systemic racism and biases still exist in organizations and in the broader society. But you'll also learn what organizations can do to leverage the talents of all women and create workplaces free of systemic racism.
Whether you lead an organization, work in HR, or simply want to better understand the dynamics at play in business today, you'll discover provocative ideas for creating a better workplace and encouraging equality for everyone.
Product Details
ISBN-10: 1647821371
ISBN-13: 9781647821371
Binding: Hardcover
Pages: 400
Dimensions: 6.10 (w) x 9.25 (h) x 1.34 (d)