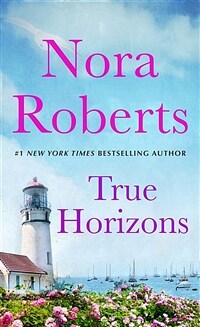 True Horizons: A 2-In-1 Collection
(Mass Market Paperback)
ISBN-10 : 1250796490 ISBN-13 : 9781250796493 List Price : $9.99
Not in stock
All Used Books (0)

About This Book
Overview
#1 New York Times bestselling author Nora Roberts presents True Horizons, two favorite MacGregor novels in one special volume.
All the Possibilities
Among the ambitious influencers crowding Washington D.C.'s hallowed halls, Shelby Campbell stands apart from the petty politicians demanding Senator Alan MacGregor's time. Fearless in expressing her beliefs, she challenges his views with an impressive intellect that also captures his heart. However, Shelby and Alan are connected by an enmity shared between their families for generations. Unwilling to let the past decide their future, Alan commits himself to proving his love for Shelby--and healing them both.
One Man's Art
A lighthouse keeper on the shores of Maine, Grant Campbell has convinced himself he is content with being alone, free of the harmful entanglements that bind people. Then Genvi ve Grandeau appears on his doorstep one night after abandoning her stalled car, seeking shelter from a raging storm. Grant is not the friendliest or most gracious of hosts, but Gennie senses a kindness and compassion deep within him yearning to be free. Unexpected fate may have brought them together, but healing love is their shared destiny. Previously Published
Product Details
ISBN-10: 1250796490
ISBN-13: 9781250796493
Binding: Mass Market Paperback
Pages: 432
Dimensions: 4.72 (w) x 6.97 (h) x 1.30 (d)