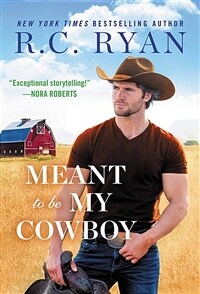 Meant to Be My Cowboy
(Mass Market Paperback)
ISBN-10 : 1538716909 ISBN-13 : 9781538716908 List Price : $8.99
$5.12 (Very Good)
A07 (3rd Shelf Top-to-bottom)
Overview
A woman on the run must trust her family's sworn enemy in this thrilling tale by one of the best in cowboy romance.

When Annie Dempsey is framed in a bank fraud scheme, she suddenly finds herself on the run. Returning to the little town of Devil's Door, Wyoming to begin a quiet new life, Annie has no interest in romance. But when she stumbles upon Jonah Merrick in his cabin in the woods, she finds the handsome cowboy charming and fun. It isn't until days later that she learns his name, and that their families have been embroiled in a long-time feud. And yet, she can't deny the sparks between them.

Jonah is intrigued by the beautiful but guarded banker at first sight. So when her past catches up to her and she's forced to flee again, he insists on taking her to his family's ranch to hide out. Despite their mistrust of a Dempsey, the Merrick clan welcome her for the night. But as that one night grows into weeks, and Jonah and Annie join forces to unravel the mystery that stalks her, Jonah realizes that he'll stop anyone who tries to take her away from their ranch...and his arms.
Product Details
ISBN-10: 1538716909
ISBN-13: 9781538716908
Binding: Mass Market Paperback