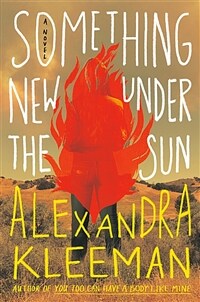 Something New Under the Sun
(Hardcover)
ISBN-10 : 1984826301 ISBN-13 : 9781984826305 List Price : $28.00
Not in stock
All Used Books (0)

About This Book
Overview
NEW YORK TIMES EDITORS' CHOICE - A novelist discovers the dark side of Hollywood and reckons with ambition, corruption, and connectedness in the age of environmental collapse and ecological awakening--a darkly unsettling near-future novel for readers of Don DeLillo and Ottessa Moshfegh

LONGLISTED FOR THE JOYCE CAROL OATES PRIZE - ONE OF THE BEST BOOKS OF THE YEAR: The New York Times Book Review, Time, Los Angeles Times. The Philadelphia Inquirer, Vulture, Thrillist, LitHub

"A darkly satirical reflection of ecological reality."--Time
"Genius."--Los Angeles Times
"Wildly entertaining and beautifully written."--LitHub

East Coast novelist Patrick Hamlin has come to Hollywood with simple goals in mind: overseeing the production of a film adaptation of one of his books, preventing starlet Cassidy Carter's disruptive behavior from derailing said production, and turning this last-ditch effort at career resuscitation into the sort of success that will dazzle his wife and daughter back home. But California is not as he imagined: Drought, wildfire, and corporate corruption are omnipresent, and the company behind a mysterious new brand of synthetic water seems to be at the root of it all. Patrick partners with Cassidy--after having been her reluctant chauffeur for weeks--and the two of them investigate the sun-scorched city's darker crevices, where they discover that catastrophe resembles order until the last possible second. In this often-witty and all-too-timely story, Alexandra Kleeman grapples with the corruption of our environment in the age of alternative facts. Something New Under the Sun is a meticulous and deeply felt accounting of our very human anxieties, liabilities, dependencies, and, ultimately, responsibility to truth.
Product Details
ISBN-10: 1984826301
ISBN-13: 9781984826305
Binding: Hardcover
Dimensions: 1.30 (w) x 5.59 (h) x 1.34 (d)