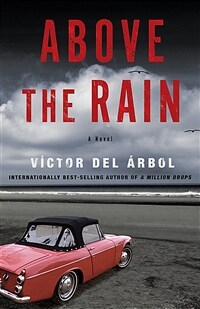 Above the Rain
(Paperback)
ISBN-10 : 1635429951 ISBN-13 : 9781635429954 List Price : $18.99
$10.82 (Very Good)
A05 (1st Shelf Top-to-bottom)
Overview
In the latest novel from a master of European crime fiction, past, present, and future intertwine on a breathtaking journey from Tangier in 1955 to Malmö in 2014.

Miguel and Helena meet at a nursing home in Tarifa, at an age when they believe they have lived it all already. Miguel is afraid of flying. Helena is afraid of the ocean. Both have adult children and feel they are no longer needed. The dramatic suicide of one of the other residents opens their eyes. They don't want to spend their last days remembering and longing for supposedly better times. Together they decide to undertake the journey of their lives and confront the darkness in their pasts.

Meanwhile, in the distant Swedish city of Malmö, the young Yasmina, a child of Moroccan immigrants who dreams of being a singer, lives trapped between the care of her authoritarian grandfather Abdul and the contempt of her mother, who is ashamed of Yasmina because she works for a Swede with a murky reputation. And has a secret love affair with the Deputy Commissioner of the Swedish police, an older, influential man.

As Yasmina is drawn deeper into Malmö's criminal underworld and Miguel and Helena approach the end of their feverish road trip, Víctor del Árbol masterfully reconstructs the history of violence that links their seemingly disparate lives.


Product Details
ISBN-10: 1635429951
ISBN-13: 9781635429954
Binding: Paperback
Language: English
Pages: 480
Dimensions: 7.99 (w) x 5.24 (h) x 0.00 (d)