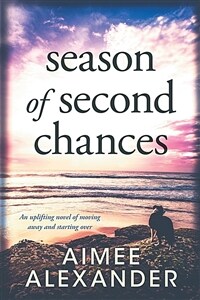 Season of Second Chances: an uplifting novel of moving away and starting over
(Paperback)
ISBN-10 : F632639050 ISBN-13 : 9798633298635 List Price : $13.99
$9.95 (Very Good)
A12 (1st Shelf Top-to-bottom)
Overview
When leaving is just the beginning... The long-awaited novel of family, love and learning to be kind to yourself by award-winning, bestselling Irish author, Aimee Alexander.

Grace Sullivan flees Dublin with her two teenage children, returning to the sleepy West Cork village where she grew up. No one in Killrowan knows what Grace is running from - or even that she's running. She'd like to keep it that way.

Taking over from her father, Des, as the village doctor offers a very real chance for Grace to begin again. But will she and the children adapt to life in a small rural community? Can she live up to the doctor that her father was? And will she find the inner strength to face the past when it comes calling?

Season of Second Chances is Grace's story. It's also the story of a community that chooses the title "Young Doctor Sullivan" for her before she even arrives. It's the story of Des who served the villagers all his life and now feels a failure for developing Parkinson's disease. And it's the story of struggling teens, an intimidating receptionist, a handsome American novelist escaping his past, and a dog called Benji who needs a fresh start of his own.

Season of Second Chances is a heart-warming story of friendship, love and finding the inner strength to face a future that may bring back the past.

Perfect for fans of Call The Midwife, Virgin River, Doc Martin, The Durrells and All Creatures Great and Small. The villagers of Killrowan will steal into your heart and make you want to stay with them forever.
Product Details
ISBN-10: F632639050
ISBN-13: 9798633298635
Binding: Paperback
Dimensions: 5.98 (w) x 0.67 (h) x 0.00 (d)