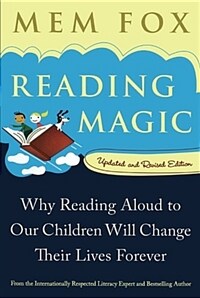 [Used] Reading Magic: Why Reading Aloud to Our Children Will Change Their Lives Forever
ISBN-10 : U874533960 ISBN-13 : 9780156035101 List Price : $7.49
Not in stock
Used Condition : Good
Price : $14.99 → $6.36 ($8.63 Save)
All Used Books (0)

About This Book
Overview
A new and revised edition!
Bestselling children's author and internationally respected literacy expert Mem Fox reveals the incredible emotional and intellectual impact reading aloud to children has on their ability to learn to read.

With passion and humor, Fox speaks of when, where, and why to read aloud and demonstrates how to read aloud to best effect and how to get the most out of a read-aloud session. She discusses the three secrets of reading, offers guidance on defining and choosing good books, and addresses the challenges that can arise. And this new edition boasts twenty pages of fresh material, including two new chapters on boy readers and phonics, a foreword, and a list of "Twenty Books that Children Love."

Filled with practical advice, activities, and inspiring true read-aloud miracles, this book is a favorite of educators and parents and a must-have for anyone interested in how children learn to read.

Product Details
ISBN-10: 0156035103
ISBN-13: 9780156035101
Binding: Paperback
Language: English
Pages: 192
Dimensions: 5.00 (w) x 7.76 (h) x 0.51 (d)