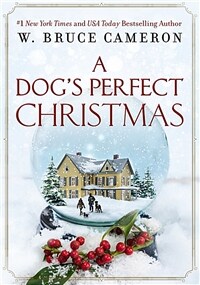 A Dog's Perfect Christmas
(Hardcover)
ISBN-10 : 1250163587 ISBN-13 : 9781250163585 List Price : $15.99
Not in stock
All Used Books (0)

About This Book
Overview
The perfect, feel-good holiday gift from W. Bruce Cameron, the #1 New York Times and USA Today bestselling author of A Dog's Purpose

The holidays are swiftly approaching when the Goss family suddenly faces a life-or-death crisis. Setting their differences aside to come together to weather the storm is easier said than done, and the last thing the family needs right now is to add a little lost puppy into mix.

Sometimes, though, the most priceless holiday gifts are the unexpected. And the key to setting things right might just come in the smallest, scrappiest of packages.

A Dog?s Perfect Christmas is a poignant, uplifting Yuletide tale of family members, both two-legged and four-legged, and the ties that bind even when modern life seems determined to pull them apart. This charming tale will make you cry, make you laugh, and open your heart to the true meaning of the holiday season.
Product Details
ISBN-10: 1250163587
ISBN-13: 9781250163585
Binding: Hardcover
Language: English
Pages: 240
Dimensions: 5.00 (w) x 7.13 (h) x 0.00 (d)