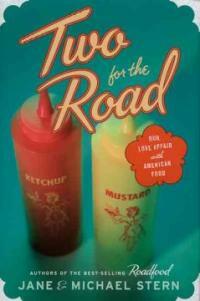 [Used] Two for the Road
ISBN-10 : U734530296 ISBN-13 : 9780618329632 List Price : $12.00
Not in stock
Used Condition : Very Good
Price : $24.00 → $6.84 ($17.16 Save)
All Used Books (0)

About This Book
Overview
Road trip! In this rollicking memoir, Jane and Michael Stern tell what it's like to eat everywhere across the U.S.A. Driving more than three million miles, eating twelve meals a day, they discover not only the pleasure of biscuits and gravy and cherry pie r la mode, but a world of cooks, customers, and fellow roadfood devotees for whom good food is one of life's essentials.

Hop into the car for hilarious adventures and misadventures as the Sterns search for the definitive barbecue, sandwiches, Indian fry bread, sweet potato pie, and other treasures along America's highways and byways. Eat in a midnight restaurant where a "murderburger" is the specialty, dine in a place whose proprietor is devoted to the memory of Richard Nixon, devour ribs alongside a cook's pet pig, and feast at one of the last of the old-time boarding houses. You'll meet such personalities as America's greatest bull rider (who won't eat clams but downs deep-fried lamb testicles), a waitress who gets her dining tips straight from Jesus, and a pre-reality-show radio homemaker who broadcasts straight from her kitchen.

Join the Sterns at the start of their journey when, fresh out of grad school and with little more than hunger as their guide, they hit the road in search of something to eat. Discover with them a strategy to maximize cafeteria tray capacity (desserts first) and to sniff out a great breakfast in an unfamiliar town. Best of all, savor the delicious potluck banquet of beloved regional fare, unusual eateries, and the unforgettable characters who make up American food.
Product Details
ISBN-10: 0618329633
ISBN-13: 9780618329632
Binding: Hardcover
Language: English
Pages: 256
Dimensions: 5.75 (w) x 8.27 (h) x 0.75 (d)