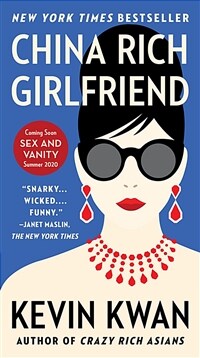 China Rich Girlfriend
(Mass Market Paperback)
ISBN-10 : 0593310918 ISBN-13 : 9780593310915 List Price : $9.99
$3.60 (Good)
C03 (5th Shelf Top-to-bottom)
Overview
 &;Deliciously fun. . . . Satire at its best.&; &;People
 
&;This year&;s best beach reading.&; &;The Washington Post
 
&;Scandalous.&; &;Town & Country
 
&;Makes even Downton Abbey look more like Downton Arriviste. . . . Genius.&; &;The Daily Beast
 
&;Frothy.&; &;Hanya Yanagihara, Condé Nast Traveler
 
&;Lifestyles of the rich and famous, China-style.&; &;Houston Chronicle
 
It&;s the eve of Rachel Chu&;s wedding, and with a fiancé willing to thwart his meddling relatives and give up his fortune in order to marry her, she should be over the moon. Still, Rachel mourns the fact that her birthfather, a man she never knew, won&;t be there to walk her down the aisle.
 
Then a chance accident reveals his identity. Suddenly, Rachel is drawn into a dizzying world of Shanghai splendor, where people aren&;t just crazy rich &; they&;re China rich.


Product Details
ISBN-10: 0593310918
ISBN-13: 9780593310915
Binding: Mass Market Paperback
Language: English
Pages: 544