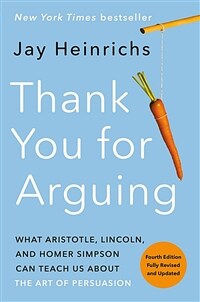 Thank You for Arguing, Fourth Edition (Revised and Updated): What Aristotle, Lincoln, and Homer Simpson Can Teach Us about the Art of Persuasion
(Paperback)
ISBN-10 : 0593237382 ISBN-13 : 9780593237380 List Price : $17.00
$6.46 (Very Good)
A03 (4th Shelf Top-to-bottom)
Overview
The definitive guide to getting your way, revised and updated with new material on writing, speaking, framing, and other key tools for arguing more powerfully
 
&;Cross Cicero with David Letterman and you get Jay Heinrichs.&;&;Joseph Ellis, Pulitzer Prize&;winning author of The Quartet and American Sphinx
 
Now in its fourth edition, Jay Heinrichs&;s Thank You for Arguing is your master class in the art of persuasion, taught by history&;s greatest professors, ranging from Queen Victoria and Winston Churchill to Homer Simpson and Barack Obama. 

Filled with time-tested secrets for emerging victorious from any dispute, including Cicero&;s three-step strategy for inspiring action and Honest Abe&;s Shameless Trick for lowering an audience&;s expectations, this fascinating book also includes an assortment of persuasion tips, such as:
 
&; The Chandler Bing Adjustment: Match your argument to your audience (that is, persuasion is not about you).
&; The Belushi Paradigm: Before people will follow you, they have to consider you worth following. 
&; The Yoda Technique: Transform a banal idiom by switching the words around. 
 
Additionally, Heinrichs considers the dark arts of persuasion, such as politicians&; use of coded language to appeal to specific groups. His sage guide has been fully updated to address our culture of &;fake news&; and political polarization. 
 
Whether you&;re a lover of language books or just want to win more anger-free arguments on the page, at the podium, or over a beer, Thank You for Arguing is for you. Warm, witty, and truly enlightening, it not only teaches you how to identify a paraleipsis when you hear it but also how to wield such persuasive weapons the next time you really, really need to get your way. This expanded edition also includes a new chapter on how to reset your audience&;s priorities, as well as new and improved ArgueLab games to hone your skills.


Product Details
ISBN-10: 0593237382
ISBN-13: 9780593237380
Binding: Paperback
Language: English
Pages: 480
Dimensions: 6.14 (w) x 0.98 (h) x 0.98 (d)