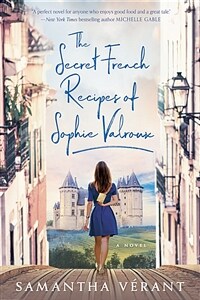 The Secret French Recipes of Sophie Valroux
(Paperback)
ISBN-10 : 1984806998 ISBN-13 : 9781984806994 List Price : $16.00
Not in stock
All Used Books (0)

About This Book
Overview
A disgraced chef rediscovers her passion for food and her roots in this stunning novel rich in culture and full of delectable recipes.
French-born American chef Sophie Valroux had one dream: to be part of the 1% of female chefs running a Michelin-starred restaurant. From spending summers with her grandmother, who taught her the power of cooking and food, to attending the Culinary Institute of America, Sophie finds herself on the cusp of getting everything she's dreamed of.
Until her career goes up in flames.
Sabotaged by a fellow chef, Sophie is fired, leaving her reputation ruined and confidence shaken. To add fuel to the fire, Sophie learns that her grandmother has suffered a stroke and takes the red-eye to France. There, Sophie discovers the simple home she remembers from her childhood is now a luxurious château, complete with two restaurants and a vineyard. As Sophie tries to reestablish herself in the kitchen, she comes to understand the lengths people will go to for success and love, and how dreams can change.
Excerpt
Reader's GuideThe Secret French Recipes of Sophie Valroux by Samantha VérantQuesstions for Discussion
1. In the beginning of the novel, Sophie is chasing her oneand only dream, but it's snatched from her grasp. Have you ever chased a dream that didn't come to fruition? What did you do to make amends with yourself? How did Sophie pick herself up from the beginning of the story until the end? How did she change? How did you change?
2. Sometimes people come off as strong even when they feel quite the opposite. They put up a front. Sophie knows this about herself but then encounters her tipping pointand finds herself facing a storm, not just with her conflicting emotions, but also with her past. Has this ever happened to you?
3. Sophie's one true love is cooking, and she cooks with her emotions. As she spirals into depression, she ends up blaming herself and locks away most of her feelings, ending up with self-pity and wavering grief. How would you have reacted to the sabotage she faced? Do you empathize with her?
4. Do you think there is misogyny in most professional kitchens? Do female chefs have to work harder than their male counterparts? Discuss current events and books, news, or articles you may have read about this.
5. The theme of food and recipes passed down from relatives is threaded throughout the story. Do you have culinary traditions in your family? Did you inherit recipes from a family member? Discuss how food can tie you to the past and the nostalgia it invokes.
6. Phillipa accepts Sophie from the get-go because, as welearn, she knows what it's like to be judged. Jane doesn't trust Sophie and thinks she'll be the ruin of the château. How do both of these friendships evolve? Have you ever judged somebody in the beginning only to find that you misjudged a person's intentions?
7. Recipes from Sophie are included in the book. Do you feel that added to the narrative? Once she gets her cooking mojo back, did you feel her passion for it? Which recipe would you want to make for your family or friends?
8. Family—three generations of women—are presented inthis book. Sophie, as a young girl, had to take care of hermother, Céleste, who was estranged from her own mother, Grand-mère Odette. Did Sophie's backstory make you sympathize with her or did you find her selfish for chasingher dream?
9. After Sophie finds out she's to inherit a twenty-eightroom château in southwestern France with two working restaurants, she's not too keen on the idea because she feels unworthy. She thinks Grand-mère has handed over to her a world Sophie has never really been a part of. Would you feel daunted or up to the challenge of the opportunity?
10. Rémi is none too thrilled that Sophie is back in Champvert, because she (unknowingly) hurt him in the past. Both of their stories are similar, and they do eventually find a connection. Did Rémi's actions make you feel sympathy for him? Did you relate to him?
11. After meeting her father, Sophie realizes that she needs to open her heart up to him, and to everybody in her world, something she feels conflicted about. What traits does Sophie share with her father? What attributes or flaws do you share with your parents, and how does that make you feel about yourself and about them?
12. Grand-mère Odette kept secrets from Sophie with the notion that she was protecting her from a painful past. Discuss this. Was Grand-mère right?
Product Details
ISBN-10: 1984806998
ISBN-13: 9781984806994
Binding: Paperback
Language: English
Pages: 352
Dimensions: 0.83 (w) x 5.51 (h) x 0.83 (d)