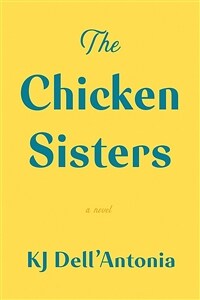 The Chicken Sisters
(Paperback)
ISBN-10 : 0593085140 ISBN-13 : 9780593085141 List Price : $16.00
$6.08 (Very Good)
A12 (2nd Shelf Top-to-bottom)
Overview
Fannie Flagg meets Elin Hilderbrand in this deliciously charming debut novel about fried chicken, family feuds, and the foibles of the human heart.

In the tiny town of Merinac, Chicken Mimi's and Chicken Frannie's have spent a century vying to be the restaurant that serves up the best fried chicken in Kansas--and the legendary bad blood between their respective owners, the Moores and the Pogociellos, has lasted just as long. But there's one person in Merinac who can't pick a side. Amanda Moore grew up working the counter at Mimi's before she married Frannie's scion Frank Pogociello in a scandal that rocked the town. Now a widow at thirty-five, Amanda runs Frannie's even as she tries to keep an eye on her reclusive mother, who's struggling to keep Mimi's afloat. Tired of being caught in the middle, Amanda sends out an SOS to Food Wars, the sizzling hot reality show that promises $100,000 to the winner of their famous Restaurant Wars competition. But she could never have predicted that the TV crew's arrival would launch both families out of the frying pan and directly into the fire...

The last thing Brooklyn-based organizational guru Mae Moore, Amanda's sister, wants is to return to Merinac, and to the family she's been semi-estranged from since she hightailed it out of town at eighteen. But when her career implodes, Food Wars suddenly becomes her best chance to step back into the limelight. Armed with ruthless organizational skills and an obsession with keeping up appearances, Mae is certain she can help her mother make the fading Mimi's look good. And if doing so pits her against Amanda and Frannie's, well, all's fair in love and show business. But with the cameras documenting both families' every move, and the Food Wars producers digging for dirt, it's only a matter of time before old secrets resurface and the bonds of sisterhood are tested once and for all.


Product Details
ISBN-10: 0593085140
ISBN-13: 9780593085141
Binding: Paperback
Language: English
Pages: 320
Dimensions: 0.83 (w) x 5.51 (h) x 0.83 (d)