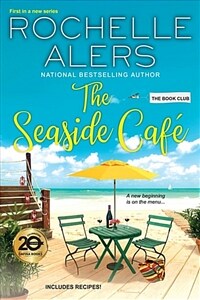 The Seaside Caf?
(Paperback)
ISBN-10 : 1496721861 ISBN-13 : 9781496721860 List Price : $15.95
$3.59 (Good)
A11 (1st Shelf Top-to-bottom)
Overview
Set on breathtaking Coates Island, off the coast of North Carolina, bestselling author Rochelle Alers&; new series debut brings together three book-loving women whose summer will offer a chance to rewrite their own stories . . .
 
For three decades, the Seaside Café has served delicious meals to locals and island tourists alike. Kayana Johnson has moved home to help her brother run the café&;and to nurse her wounds following a deep betrayal. Between cooking favorite recipes&;creole chicken with buttermilk waffles, her grandmother&;s famous mac and cheese&;and spending time reading, Kayana is trying to embrace a life free of entanglements, while staying open to new connections . . .
 
After striking up conversation with two customers, Kayana suggests a summer book club. Each week, they&;ll meet on the patio to talk about their favorite novels. But there are plot twists awaiting them in real life too. For schoolteacher Leah, this two-month sojourn is the first taste of freedom she&;s had in her unhappy marriage. Cherie, filled with regret about her long-term affair with a married politician, discovers a powerful new passion. And Kayana finds a kindred spirit in a reclusive visitor who&;s ready to make his true identity known, and fill this summer with new possibilities . . .
 
 
Praise for The Inheritance
 
 &;The ambiance and flavor of New Orleans are on full display.&; 
&;RT Book Reviews, 4 Stars
 
 &;A novel that resembles female bonding romance series like The Bride Quartet by Nora
Roberts. . . . Capitalizing on its assets: the sensuous Big Easy setting and the rarely encountered middle age romance.&; 
&;Kirkus Reviews

On breathtaking Coates Island, off the coast of North Carolina, three book-loving women experience a summer that offers them a chance to rewrite their own stories. Includes recipes. By a national best-selling author. Original.


Product Details
ISBN-10: 1496721861
ISBN-13: 9781496721860
Binding: Paperback
Language: English
Pages: 320
Dimensions: 5.51 (w) x 8.27 (h) x 320.00 (d)