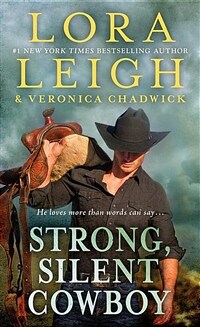 Strong, Silent Cowboy: A Moving Violations Novel
(Mass Market Paperback)
ISBN-10 : 1250220092 ISBN-13 : 9781250220097 List Price : $7.99
Not in stock
All Used Books (0)

About This Book
Overview
From #1 New York Times bestseller Lora Leigh and Veronica Chadwick comes a second chance at love and bodyguard romance Strong, Silent Cowboy

?Leigh?s books can scorch the ink off the page.??RT Book Review

Sallie Hamblen had one incredibly hot, sexy night with Jacob Donovan before she disappeared, leaving behind everything, including her fake name. Years later, he doesn?t know that the woman he?s about to seduce in a small town bar is the woman he held in his arms all those years ago.

He doesn?t know that she is still on the run from her past...

Jacob believes that he wants a simple life. Just the ranch and occasionally someone warm and sweet in his bed. Until he meets Sallie and all of a sudden he wants to be in her bed every night...all night. When he discovers that her life is in danger, he steps in as her bodyguard. Even when secrets revealed threatens everything between them, he must find a way to protect her with his very life.
When Sallie Hamblen, an undercover FBI agent, rescues cowboy Jacob Donovan during a raid, they are both set on a dangerous path to escape a man who wants revenge for her betrayal, while trying to deny the attraction between them. Original.
Product Details
ISBN-10: 1250220092
ISBN-13: 9781250220097
Binding: Mass Market Paperback
Language: English
Pages: 1
Dimensions: 6.73 (w) x 4.13 (h) x 0.00 (d)