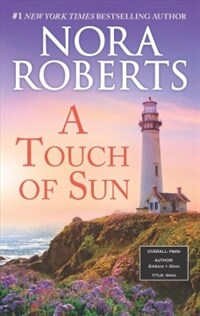 A Touch of Sun: A 2-In-1 Collection
(Mass Market Paperback,

Reissue

)
ISBN-10 : 1335897968 ISBN-13 : 9781335897961 List Price : $7.99
Not in stock
All Used Books (0)

About This Book
Overview
Two reader-favorite tales about learning to let love in&;

MIND OVER MATTER

David Brady has found the star for his documentary&;a real psychic! Unfortunately, no-nonsense theatrical agent A.J. Fields is fiercely protective of her client&;especially since that client is her mother! David is obviously a skeptic, and she isn&;t going to expose her mother to ridicule. David can tell that A.J.&;s icy exterior is just a front, but he knows it&;s going to take a lot more than charm to get her on board with his plans. A.J. is an enigma, and he is determined to find the key.

DUAL IMAGE

Soap opera star Ariel Kirkwood has got her hands full. Playing Booth DeWitt&;s cruel ex-wife in his semi-autobiographical film is the chance of a lifetime. Not only that, she&;s secretly in the middle of a custody battle for her brother&;s son. The last thing she has time for is a complicated relationship with a moody screenwriter, yet Ariel can&;t get sexy Booth out of her mind. Ever since his very public breakup with his ex-wife, Booth has had serious trust issues. All the same, he can&;t help it when Ariel makes her way into his life&;and into his heart.

Previously published.

A #1 New York Times best-selling author presents two reader-favorite stories?Mind Over Matter and Dual Image, in which a soap-opera star aims to win the heart of a screenwriter while trying to win custody of her brother?s son. Reissue. 450,000 first printing.

In "Mind over Matter," A.J. Fields finds herself falling for documentary maker David Brady's charms, and in "Dual Image," Booth DeWitt becomes fascinated with actress Ariel Kirkwood, who is playing the role of his cruel ex-wife.


Product Details
ISBN-10: 1335897968
ISBN-13: 9781335897961
Binding: Mass Market Paperback
Language: English
Pages: 480
Dimensions: 6.61 (w) x 4.17 (h) x 0.00 (d)