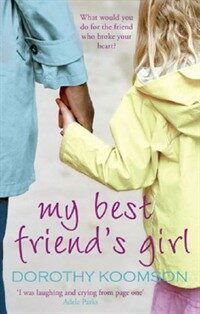 My Best Friend's Girl
(Paperback)
ISBN-10 : 0751537071 ISBN-13 : 9780751537079 List Price : $17.75
$5.95 (Very Good)
A08 (2nd Shelf Top-to-bottom)
Overview
Kamryn Matika has a great job, a hectic social life and no responsibilities - one birthday card will change all of that for ever ...

Vor funf Jahren spannte Adele ihrer besten Freundin Kamryn den Freund aus und wurde von ihm schwanger. Heute ist sie todkrank und bittet Kamryn, sich um ihre Tochter zu kummern, wenn sie stirbt. Kann Kamryn ihr verzeihen und ist sie dieser Aufgabe uberhaupt gewachsen?

What would you do for the friend who broke your heart? Best friends Kamryn Matika and Adele Brannon thought nothing could come between them - until Adele did the unthinkable and slept with Kamryn's fiance, Nate. Worse still, she got pregnant and had his child. When Kamryn discovered the truth about their betrayal she vowed never to see any of them again. Two years later, Kamryn receives a letter from Adele asking her to visit her in hospital. Adele is dying and begs Kamryn to adopt her daughter, Tegan. With a great job and a hectic social life, the last thing Kamryn needs is a five year old to disrupt things. Especially not one who reminds her of Nate. But with no one else to take care of Tegan and Adele fading fast, does she have any other choice? So begins a difficult journey that leads Kamryn towards forgiveness, love, responsibility and, ultimately, a better understanding of herself.


Product Details
ISBN-10: 0751537071
ISBN-13: 9780751537079
Binding: Paperback
Language: English
Pages: 448
Dimensions: 5.04 (w) x 7.64 (h) x 1.26 (d)