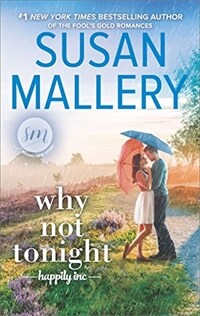 Why Not Tonight
(Mass Market Paperback)
ISBN-10 : 1335474609 ISBN-13 : 9781335474605 List Price : $8.99
$3.99 (Good)
A08 (4th Shelf Top-to-bottom)
Overview
Susan Mallery welcomes you to Happily Inc, where true love isn&;t just for fairy tales&;

Natalie Kaleta will do anything for the artists at her gallery, including risk life, limb and the effect of humidity on her naturally curly hair. Braving a downpour to check on reclusive Ronan Mitchell, Natalie gets stranded by a mudslide at his mountain home, where the brooding glass artist reveals his playful side, sending her inconvenient crush from under-the-radar to over-the-top.

After a secret tore apart his family and made him question his sense of self, Ronan fled his hometown for Happily Inc, but the sunny small town can&;t fix his damaged heart. He won&;t give in to his attraction for beautiful, perpetually cheerful Natalie. She&;s untouched by darkness&;or so he thinks.

Natalie knows that when a heart goes through the flame, it comes out stronger. Life may not be a fairy tale, but sometimes dreams do come true. Why not this one? Why not tonight?

Stranded for days with his overly perky studio manager, Ronan Mitchel, the moodiest of the five famous Mitchell brothers, soon discovers what he has been missing all these years?love. By the #1 New York Times best-selling author of the Fool's Gold Romances. Original. 800,000 first printing.

A moody, reclusive artist finds himself stranded for days with his overly-positive and perky studio manager after a mudslide shuts them inside his mountain home.


Product Details
ISBN-10: 1335474609
ISBN-13: 9781335474605
Binding: Mass Market Paperback
Language: English
Pages: 384
Dimensions: 4.17 (w) x 6.61 (h) x 0.79 (d)