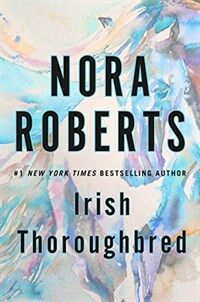 Irish Thoroughbred
(Hardcover)
ISBN-10 : 1250162637 ISBN-13 : 9781250162632 List Price : $20.00
$7.00 (Acceptable)
H13 (2nd Attic Top-to-bottom)
Overview
From a beloved #1 New York Times bestselling author, Irish Thoroughbred is the story of a young immigrant, a racehorse breeder, and a romance that could only happen in America.
There's nothing left for Adelia Cunnane in Ireland. The aunt she cared for has passed, and the family farm has been sold for taxes. But her uncle Paddy has written her:
Come to America
... The Maryland horse farm where Paddy lives and works is more than Dee dared to dream about. She has always had a magical touch with animals, and her she finds employment in the stables--and a chance to fly, on the muscular back of Travis Grant's chestnut Thoroughbred. It's easy to put aside a passing pang of homesickness when she can spend her first paycheck--which feels like a veritable fortune--on the feminine frivolities that were never a part of her life in the old country. But the most unfamiliar territory of all is her relationship with her boss, the man who has made all this possible. Spirited but innocent, Dee is disconcerted by the way he treats her--and the way she responds. America may be the land of opportunity, a place where even those from the humblest background can pursue what they want--and, perhaps, even find themselves one day attending the Kentucky Derby. But some divides may be too wide to cross, and Dee fears that demanding more could cost her all that she's already gained...
Product Details
ISBN-10: 1250162637
ISBN-13: 9781250162632
Binding: Hardcover
Language: English
Pages: 288
Dimensions: 5.51 (w) x 8.27 (h) x 0.00 (d)