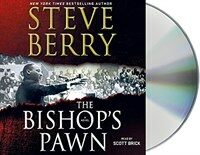 The Bishop's Pawn
(Audio CD)
ISBN-10 : 1427293171 ISBN-13 : 9781427293176 List Price : $39.99
$19.00 (Very Good)
B11 (5th Shelf Top-to-bottom)
Overview
In this audiobook, Steve Berry and Macmillan Audio have teamed up again to bring listeners an expanded, annotated Writer's Cut audiobook edition of The Bishop's Pawn.
This Writer's Cut edition is read by critically-acclaimed and award-winning narrator Scott Brick and features fascinating behind-the-scenes commentary read by the author, Steve Berry.

The Bishop's Pawn continues renowned New York Times top 5 bestseller Steve Berry's Cotton Malone series with another riveting, history-based thriller.
The ugly feud between J. Edgar Hoover and Martin Luther King, Jr., marked by years of illegal surveillance and the accumulation of secret files, ended in April 1968 when King was assassinated by James Earl Ray.
At least, that's what history would have us believe.
Now, fifty years later, former Justice Department agent Cotton Malone comes face-to-face with what really happened that day in Memphis.
It all turns on an incident from eighteen years ago, when Malone, as a young Navy lawyer, is trying to stay out of trouble. When Stephanie Nelle, a high-level government lawyer, enlists him to help investigate the FBI, he jumps at the opportunity. All he has to do is retrieve a stolen rare coin and some classified files before they fall into the wrong hands, and not ask too many questions.
But the Justice Department and the FBI are at war over a cadre of secret files containing explosive revelations about what happened on April 4, 1968, information that could ruin innocent lives and threaten the legacy of the civil rights movement's greatest martyr. From the raucous bars of Mexico, to the halls of power in D.C., Malone's decision to see it through to the end changes his life, and the course of history.
New York Times bestseller Steve Berry mines the riches of history to imagine a gripping, provocative thriller about an American icon, in time for the 50th anniversary of the assassination in April 2018.
Product Details
ISBN-10: 1427293171
ISBN-13: 9781427293176
Binding: Audio CD
Language: English
Pages: 40