How do I search by ISBN?
The International Standard Book Number (ISBN) is always found on the back cover, near the bar code. It will also be listed inside the book, on the same page as the copyright and publisher information. It is always labeled ISBN.
To search by ISBN, simply type the 10 or 13 digits into the search box. Do not include dashes or spaces.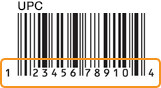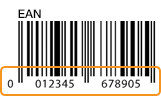 How do I look up UPC or EAN numbers?
The Universal Product Code (UPC) or European Article Number (EAN) usually can be found on the back of a CD or DVD case.
The UPC consists of 12 numbers and the EAN is 13 numbers.
To look up the corresponding item(s), please enter the 12-digit or 13-digit number without dashes or spaces in the search text box.

How do I sell my Books, CDs, or DVDs/Blu-rays?
1. Look up your titles
- The titles must be listed in the BookMonster database.
- You can search by ISBN, barcode, title, author, etc.
- ISBN searches work best.
2. Add the titles to your Buyback Cart
- Prices offered will depend on the condition of the title.
- Not all conditions are accepted.
- Buybacks accepted and prices calculated based on real-time analysis of demand and inventory.
- Click the "Add to Buyback Cart" button for titles you wish to sell.
- When finished adding titles to your cart, go to "Buyback Cart."
3. Check condition
- Titles placed in your Buyback Cart are automatically assigned a condition of "Very Good." Please check the actual condition according to the Condition Guidelines and assign the correct condition.
- Based on demand and inventory, some items may be placed in the "Not Acceptable" cart.
- When finished checking the condition of your items, click the "Buyback Checkout" Button.
You must have a minimum of 10 items or your item(s) must be worth $10 or more before you can proceed to shipping and checkout.
4. Submit Buyback
- Fill in your shipping and payment information, then click the "Submit Buyback" button.
1. Packing
- Pack the items you wish to sell in a sturdy box or boxes. Add packing materials to ensure that they will not be damaged in transit. We do not compensate you for items that are damaged or destroyed in shipping.
- Print out the Buyback Request List and place it inside each box.
- Print the Shipping Label for the number of boxes listed on the "Buyback Request " page submitted. You can also find this information by clicking the "Buyback History" link on your "My Account" page.
2. Shipping charges
- Shipping to BookMonster is free.
3. Shipping
- Take your boxes to the US Post Office or to UPS to ship them.
- You items must be shipped within 14 days of your buyback request.
- After 14 days, your buyback will be cancelled.
Buyback Price
- The buyback price is based on the item's condition and its inventory status on BookMonster.
- Titles that exceed our standard inventory will be priced lower.
- A condition status of Like New/Very Good/Good/Acceptable applies separately to each item.
- The base buyback price varies according to the market.
- A premium is added to the base price for bestselling titles.
- Buyback prices are reduced for older titles with lower list prices.
BookMonster does not buy the items below.
- Titles not registered in our database.
- Items not in English.
- Digital editions (MP3, audiobooks, Kindle editions, etc.)
- Special format items such as maps, pamphlets, sheet music, wall charts, etc.
- Accessories, calendars, magazines.
- Titles that would exceed our maximum inventory.
- CDs and DVDs too scratched to play or illegally copied.
- Books with torn pages, divided sections or that are overly marked or water-damaged.
- Books missing attached materials such as a CD.
- Books with loose or missing pages.
Titles receiving a lower price
- Overstock items or those with a low resale likelihood get a flat rate offer instead of the base buyback price.
- Items which are not for resale will not be bought.
- BookMonster reserves the right, at its discretion, to determine the condition of any item received and to reduce the price, reject the item or discard it.
Return Policy
Any items that arrive at BookMonster and fail to meet any of our conditions for acceptance will be rejected. Such items will be discarded or returned according to the preference indicated in your buyback request.
- Discarded : If you selected "Discard," the rejected items will be immediately discarded after processing and will not be returned to you.
- Returned : If you selected "Return," the items will be returned to the same address as the one you used to mail them to us. Return postage will be charged to you and it will be deducted from the final adjusted total paid for your items.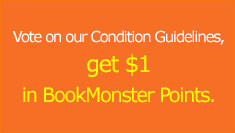 Sign in to review the titles that you have sold to BookMonster.